The smell of fall is in the air, and you have buck fever. But you're sitting in your armchair in the middle of September, waiting for November to roll around so you can go back to Mississippi. And with more than 1.7 million deer in the state; it is no wonder you are thinking about this deer hunting paradise. But it doesn't have to be that way. There is a way to increase your deer hunting days afield and experience some of the most challenging hunting around today. A deer hunt in Mississippi is your ticket to keeping your skills tuned and your freezer full.
Mississippi Outfitter's bow hunter package is just the ticket to begin the deer hunting season amidst the brilliant Fall colors of October. Success is improved by the calming effect on the deer from the long, hot summer and their established movement patterns. Very similar to our gun hunts for whitetail deer, our bowhunts provide all of the necessities for the serious bowhunter, including ranges to sharpen your skills.
If bowhunting is not your bag, we have gun and primitive weapon hunts. Like our bowhunting areas, the prime deer hunting areas in Mississippi employ a deer management program to maintain deer density and physical condition, improve antler development and allow the harvest of both sexes. This allows the hunter a better chance for a trophy deer. Harvesting a buck weighing more than 200 pounds is not uncommon. Our outfitters carefully select locations for our tree stands, which have been constructed for safety and comfort. The stands are in position weeks prior to the season and our experienced outfitters scout regularly to move stands when the deer change their movements.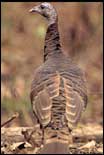 Mississippi's vast bottomland hardwood swamps have "turkey hunter" written all over them. In fact, the turkeys for stocking parts of the Southeast were trapped many years ago in Mississippi. The fertile soil provides abundant oak flats, chufa fields, bahia grass, natural foods and insects. Combined with the proper management, this formula yields what? Long beards.
Unlike dove, our turkey hunts consist of a one-on-one hunter to guide ratio. This gives you the advantage of hunting with a guide that's familiar with the regions wild turkey population, habitat and habits.


Few things are more appreciated than a Southern quail hunt. The fields of Mississippi and its rolling hills offer some of the South's finest habitat for quail. Our quail areas have been managed by professional biologists. The

native quail population is constantly supplemented with selective strains of flight conditioned birds for fast wing shooting action.
And while you're here you may want to sharpen your shooting skills on one of the many sporting clay ranges. So if you enjoy getting together with a group of friends for a friendly quail hunt, plan it in Mississippi. Special accommodations are made for corporate outings and board meetings.


In Mississippi, we celebrate September and the beginning of the harvest season in a special way... action-packed dove shoots. Our many sunflower fields are managed specifically with doves and the dove hunter in mind.

Hunters are transported to one of the many sunflower fields where fast flying doves test one's shooting skills. And as a bonus, we will keep you refreshed during the hunt with cold drinks... and update you on your favorite football scores
As with our quail hunts, you may want to sharpen your shooting skills on one of the many sporting clays ranges. So if you like a lot of action, plan a dove hunt in Mississippi and you won't be disappointed. Like most of our hunts, special accommodations are made for corporate outings and board meetings.


Nothing is more exciting than the harmonious sounds of beagles in hot pursuit of a cottontail or canecutter rabbit. If you come to Mississippi, be prepared for excitement as you leisurely stroll down the many brakes and creek banks flushing rabbits in all directions. Hunters who can't walk long distances or need special care need not worry about this type of hunting.
The mighty Mississippi drains water from 31 states and two Canadian provinces. "So what?," you ask. Well that means that, like Arkansas, Mississippi is also on the smallest end of the funnel. And that means ducks...by the millions!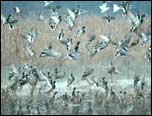 There are more than 125,000 acres of natural wetlands and managed impoundments throughout Mississippi, offering some of the finest duck hunting in the America. With state-of-the-art management techniques in place, we over winter hundreds of thousands of ducks on their journey south. During their stay, they are feed a gourmet diet of rice, soybeans, millet, corn and natural seeds. Our formula for success is simple. We combine this abundance of food with the fresh, pure water of Mississippi and the results are outstanding. The natural wetlands and the managed impoundments get overrun by waterfowl which makes Mississippi a very exciting place to be during hunting season.
Whether you choose a duck hunt in flooded timber, in a rice field, or in the mighty Mississippi River; it's guaranteed to be action-packed. And if you need to sharpen your shooting skills, you will surely enjoy our many ranges for sporting clays. Like our fantastic fishing; it's hard to beat duck hunting in Mississippi. In fact, it is probably our best kept secret. Seeing the sun rise, hearing ducks calling and watching an occasional turkey come off the roost...it's absolutely breath taking.